J-5 Myomonitor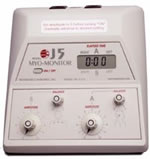 The J-5 Myomonitor is a muscle stimulating device to help relax muscles of both the jaw and neck simultaneously using
T
ranscutaneous
E
lectrical
N
erve
S
timulation or
TENS
. It produces an Ultra Low Frequency pulse which stimulates a nerve and in turn relaxes the muscles attached to that nerve. It is a battery powered device that the guest controls and it is used to treat the following:


Temporomandibular joint (TMJ) dysfunction and associated pain
To relieve symptoms associated with muscle spasm
To relax muscles and establish a physiologic biting position
To take bite registrations and impressions for dentures
To increase blood circulation
To maintain or increase mandibular range of motion
This gives us accurate reproducible physiologic rest position or the position in which measurements of muscle activity is calmest. The ultimate goal is relaxed muscles and relaxed muscles are free from tension and pain and will function properly when chewing,speaking and smiling. Tense muscles can cause head, neck and back pain and this new technology may help relieve some of these symptoms. An orthotic or splint is constructed to fit over the teeth to help the muscles relax at the position as determined by the J5.

High-Tech Computerized Diagnostic TMJ Diagnosis - K-7