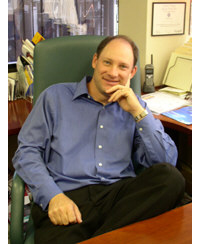 Lincoln Park dentist Dr. Ronald Widen, a gentle and caring third generation dentist with an eye for detail, has attended hundreds of hours of continuing education in the implant, cosmetic and aesthetic realm to provide exceptional dental care for our guests. Dr. Widen is a graduate of the Las Vegas Institute for Advanced Dental Studies, the world's premier post-graduate training center for cosmetic and neuromuscular dentists and is a member of the American Academy of Cosmetic Dentistry. He is a member of the American Dental Association, Illinois State Dental Society, the Chicago Dental Society and is on the Chicago Dental Society Mediation Committee. Dr. Widen is a member and webmaster of the Pinnacle Study Club of Chicago. Dr. Widen has also been featured in many dental journals and other publications.

As a dentist in our intimate boutique setting, Dr. Widen and Nichole can take care of the dental needs of our guests and make sure they are comfortable during their procedures. Unlike most dentists, at Halsted Dental Aesthetics, we run on time! This is one of the many features that makes our Chicago dental office unique! You will love the undivided attention you get during your visit. Dr. Widen remains with our guests until they are completed with their daily treatment. Furthermore, we will help you receive the dental insurance benefits you are entitled to and fill out all the necessary forms.

The smiles and hugs we receive after a completed case reflects the quality and dedication that our office provides to our guests. We use only the best dental materials and dental supplies for your treatment and are trained far beyond most general dentists in the art and science of general, cosmetic and neuromuscular dentistry. This allows us to help you achieve the beautiful, comfortable, natural smile you desire. If you are looking to have a great healthy smile, you have found your dentist, don't hesitate and give us a call at 312-266-0044.

We look forward to helping you achieve the smile you always wanted!