| | | |
| --- | --- | --- |
| | | |
| Before Bleaching |   | After Bleaching |
A popular method for treating moderately stained or discolored teeth is bleaching. These stains often can not be removed with regular professional cleanings. One popular method of bleaching is the in-office method.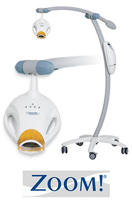 Now we can lighten your teeth up to 8 shades in less than an hour.  Come visit the office and learn how your teeth can be the whitest they can be.  ZOOM Whitespeed LED!! customized bleaching takes about an hour and a half total chair time.  Your soft tissue is protected so as not to injure it while bleaching.  Three to four 15-minute sessions of adjustable intensity bleaching are done and then your teeth are re-fluoridated to help with any sensitivity that may occur.  Everyone, so far, has been delighted with the results. For touch-ups we can also make custom fitting trays and give you take-home bleach for follow-up bleaching. These are usually done every 6-12 months.
The other popular method of bleaching is the at-home method. First, we make a mold of your teeth and custom mouth trays. The mouth tray will hold the bleaching material against the tooth surface without concentrating the agent on the gum tissue. If the material contacts the gum tissue too long the gum tissue can be irritated or even burned temporarily. That is why a generic over the counter product does not work as well. The tray is worn 15 minutes twice per day and a noticeable improvement usually takes place within 1 week. You may continue using the product until you reach your desired whiteness. Sometimes you can not achieve your desired whiteness and will have to settle for something less or decide veneers would be a better option for you. We may have you come in periodically to check the progress and the reaction to the gum tissue, if any. After you have lightened your teeth, you may need to periodically (once every couple of months) bleach them for a session to keep the whiteness.
Call us at 312-266-0044 if you are interested in the Zoom Whitespeed LED procedure or take-home whitening.