Dental Implants in Chicago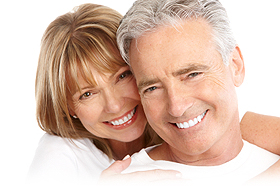 Loose Dentures?
Missing Teeth?

Dental Implants can help!
Dental implants are used to replace a single tooth, many teeth on one side, or used to support an entire fixed or removable bridge replacing all the upper or lower teeth for our guests in Chicago. The most common dental implant used today is the osseintegrated dental implant. This dental implant is placed into your lower or upper jaw. Depending on the number of teeth being replaced, one or more dental implants are placed in the bone. If necessary a substrucure is made and then a crown, bridge or denture is securely fastened to the substructure or implant.

Dental Implants are useful for patients in Chicago that have tried but can't wear conventional dentures. Patients in Chicago that lost a tooth, have two teeth with no or small fillings adjacent to the hole and don't want to cut the teeth down to make a bridge, would also make good candidates. In either case, our Chicago patients have to commit to good oral hygiene. So make sure to keep the implanted areas healthy, by brushing and flossing daily. Dental implants are usually placed in outpatient settings and have a healing phase of 6 weeks to 3 months.

Dr. Widen places many of his own guest's dental implants. Call our Chicago office at 312-266-0044 to see if you are a candidate.