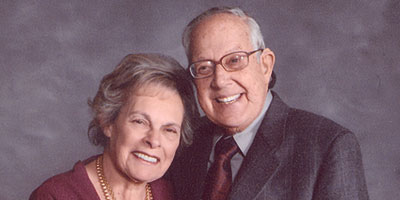 Just because you are a mature adult does not mean you can not wish to have the best smile possible. This woman was never happy with her teeth since childhood. She did not have nor could afford braces at that time. She wished to have a new smile and we decided to change her bite to a more physiologic bite with the help of the TENS and the K7 jaw tracking equipment. One we found her true bite it was obvious that she did not need braces to correct her smile. Since she had large failing fillings and bridges we decided to do a full mouth reconstruction involving, crowns, veneers and all porcelain bridges. When finished she could not believe her new smile and said, "I look at least 10 years younger."

When she arrived home, her husband of over 50 years was so excited for her about the result that he wanted to rejuvenate his smile also. He had worn down his front teeth dramatically. They were yellow in color and many chips and cracks were readily visible. Since his back teeth were sound we decided to only place restorations on seven teeth in total, six front porcelain laminate veneers and one porcelain crown on a premolar tooth. We kept his bite at his current position. His result was as successful as his wife's and he looked and felt more youthful.

The picture above says it all. This loving couple is proof that it is never too late to improve your smile.