Computerized Mouth Charting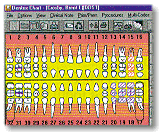 Our computerized mouth charting is integrated with our Practice Management software. This program allows for complete control of all the functions of a dental office. In the near future the concept of a paperless office will be a reality. We have computers in the operatories that will display your chart graphically. We can see what treatment has been completed and which procedures still need to be addressed.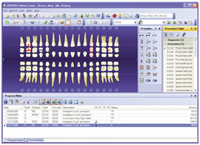 We can include a full clinical chart including TMJ, Periodontal conditions, Skeletal and Musculature conditions as well as enter in the daily treatment performed on each guest. After doing a full periodontal (gum) charting it can be displayed graphically to enhance guest understanding and improve guest compliance. We can also print out this graphical chart in color for the guest to take home with them.
Included with this charting is a Guest Education system. This system has pictures and diagrams to show most of the various procedures that can be performed at our office. With this great technology at our fingertips we can provide to best dental care possible with the guest fully cooperating because all possible questions have been answered.


More Technology - CEREC - One Hour Crowns